Game-Hosting 
Hosting and Operating Online Games
Game-Hosting Cloud Platform
​Game-Hosting's cloud platform delivers a holistic and open solution optimized for online games that fully realize the advantages of state-of-the-art cloud technology and enables a complete company cloud strategy from development to production by providing the agility to run and operate any workload anywhere as a single, cohesive infrastructure.
3 things for your optimal infrastructure online game(play):
1) Tailored cloud strategy for your specific online game coupled with correct infrastructural design. Your game is a work of art. No game is the same. By addressing the complex technical challenges involved and getting our help to do so will enable you to have a correct cloud strategy and infrastructural design. Including internal and external networking.
2) Develop & deploy a hybrid/multicloud orchestration architecture using IAC. Improved TCO (Total cost of ownership) on infrastructure. Spread of risk. Less to none lock-in. more control. Take the design blueprint and put it into action using our holistic and open cloud platform to do the heavy lifting.
3) Plan & prepare day 2 infrastructural operations. Get it right from the start and adaption to change and scale is easy. Operations is a result of your strategy and design. How easy or difficult it will be is dependent on your initial strategy and design. With us in your corner we will make sure your focus can be on the core product and we will take care of the infrastructural performance of your game.
We call it DDO. Design – Deploy – Operate.
Compared to the most known cloud suppliers – we will give you a better price, a performance that will impress you and full infrastructural flexibility combined with personalized technical expertise and support.
Technical expertise
As online games become more complex and technical innovation in this field is blazingly fast, there is a clear advantage in using specialized technical expertise to attain correct design, deployment and operations of server-side environments.
Performance
By using state of the art software and hardware in combination with full control and tuning of the entire technology stack we are able to deliver an industry leading performance in our network, storage and compute infrastructure.
Value for money
Leveraging technical innovations, automation and the adoption of open flexible technologies will prepare your company for the future technical challenges you can not predict and reduce cost.
Uptime
Our services and cloud platform is created in compliance with the strictest redundancy and availability policies to ensure that your applications are always online. Our SLA & SLC are among the best in the industry.
Flexibility
Every game is different. A game is a work of art, creativity and technology powered by a wide range of diverse people and software. To successfully deliver a product to the gamers of the world the infrastructural solutions must be able to tackle any and all combinations and configurations at any level.
Control
To deliver a massive project such as an online game, you and your service provider must have first hand control over the whole service chain and technology stack supporting and developing the game. Game-Hosting gives you this control.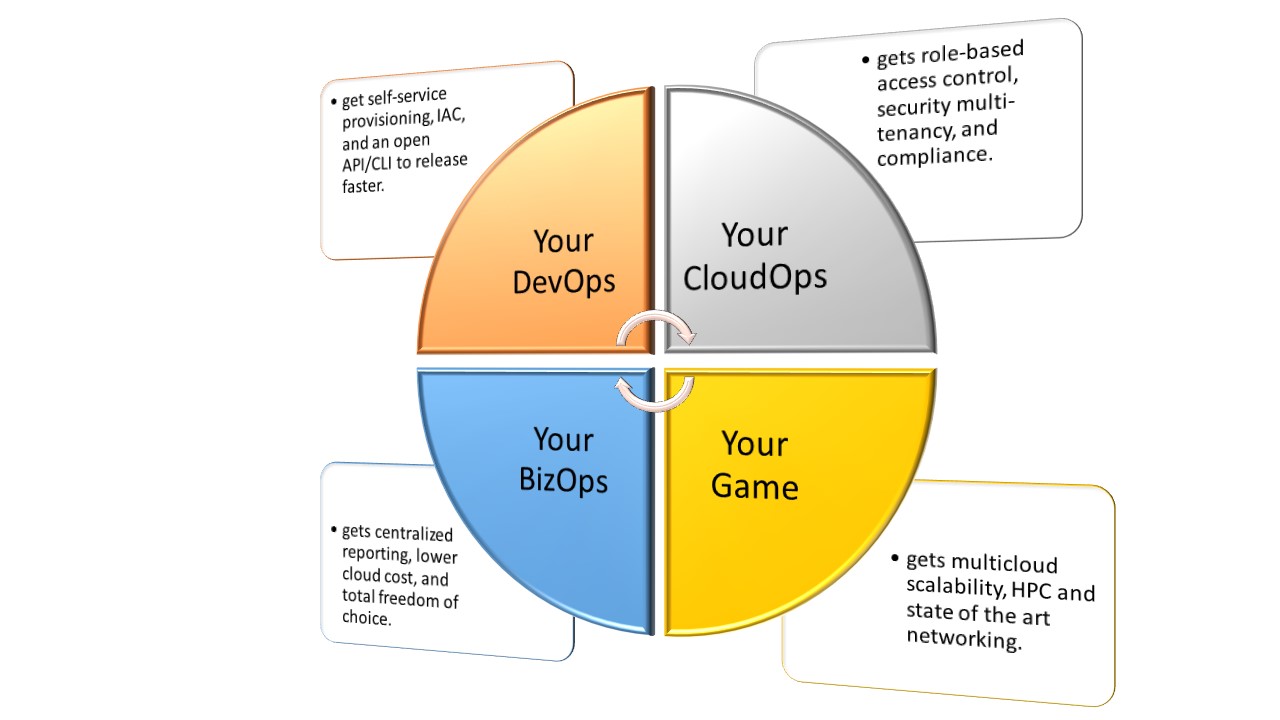 Game-Hosting cloud is designed to easily provide game companies with an innovative and fully customizable platform that delivers the uptime, performance, flexibility and control that their games require.
Game-Hosting operation services are designed to provide game companies with personalized senior technical expertise, knowledge and hands on help to ensure an optimal design, deployment and operations of server-side and network environments.